A digital version of the race pack being sent out can be viewed by clicking on the image below! 10K race packs will arrive by post w/c 27 June. If your pack has not arrived by Friday 1 July, you have lost it, or you registered using an old or incorrect address please click here for details on next steps.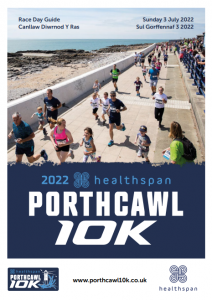 With a mixture of nerves and excitement riding high, please take time to make sure you're familiar with the important event instructions:
Time & Location
Sunday 3rd July 2022. Sunday 3 July, 10am – 2pm, Porthcawl Esplanade, Porthcawl.
Parking
A number of car parks are available to pre-book, but with limited capacity – are expected to sell out prior to event day so early booking is encouraged. Users should arrive from junction 37 of the M4 and then follow event signage as they approach the town centre. Clikc here for more information and to pre-book your space.
Race Number
Enclosed in your race pack is your running bib, with unique race number. It's vital that you keep this safe as a timing chip (which enables us to give you your finishing time) is embedded into all 10K race numbers – which cannot be reissued. Please pin the number to the front of your t-shirt on race day, and remember to complete the medical information on the back of your race number. This is very important.
Baggage
Bag storage is situated in the Event Village and will be clearly signposted. It will be open from 8:45 am. Your 10K race number includes a tear-off baggage label strip along the bottom – please attach this to your bag before you arrive. Random searches will be in operation.
10K Race Start
The 10K race starts on Porthcawl seafront as marked on the course map (left). The solid colour (either white, green, red, or yellow) behind the number on your running bib will dictate which starting pen you must assemble in before the race. Pens will open at 9:45am.
Porthcawl 10K Junior Races
The Porthcawl 10K Junior Races will commence from 12:30 with the Toddler Dash, followed at 12:45 by the Future Challengers Mile, then by the Fun Run at 13:30. The races start and finish on the Esplanade in Porthcawl, near the Grand Pavillion.
Water Stations
We're anticipating warm weather. Please make sure to take on water at 5K at the Hi-Tide Inn Car Park. More essential hydration tips can be found here.
Health and Safety
Our 10K route takes place on fully closed roads, but competitors should be aware of their surroundings and listen out for marshal's instructions for their own health and safety.
Download the Run 4 Wales App
Available on iOS and Android, the Run 4 Wales App lets you track participants on race day, view live results and more.
T-Shirts & Medals
Medals (10K, Future Challengers, Fun Run) and t-shirts (10K only) will be distributed at the finish line of your race.
Volunteers
A big team of #ExtraMilers will be giving up their own time on race day to ensure you have an unforgettable day.
Pacers
Looking for a new personal best? Our pacers will be running at 45, 60 and 75 minutes to help you keep track of your time. Look out for them in your start wave.